Thanksgiving is exactly one week away! Whether you are getting prepared to host a feast at your home, or simply want to add some creativity to a dish you're bringing to someone else's home. There's no better time to explore your culinary creativity than this delicious Holiday.
Food and dessert are the overwhelming focus of Thanksgiving. So much so, that it becomes easy to overlook the creative opportunity you have to make the drink menu just as, if not more impressive than this year's food menu.
Before you make your last grocery, store stop, take a peek at our top 6 drink recipe options for Thanksgiving. We're sure you will feel inspired to make some last-minute additions to your shopping list.
1. Pecan Pie Martini
INGREDIENTS:
6 oz. Rumchata
6 oz. Creme de cocoa
3 oz. Bourbon
Ice
FOR GARNISH
 3 tbsp. Caramel, microwaved until pourable
1/4 c. Toasted chopped pecans
DIRECTIONS:
1. Place caramel and toasted chopped pecans on separate small shallow plates. Dip the rim of each glass first into the caramel and then into chopped pecans to coat
2. Combine rumchata, creme de cocoa, and bourbon in a large cocktail shaker. Fill with ice and shake until cold, 30 seconds. Pour into martini glasses and top with a dollop of whipped cream, a whole pecan, and a sprinkle of cinnamon.
PHOTO: Pinterest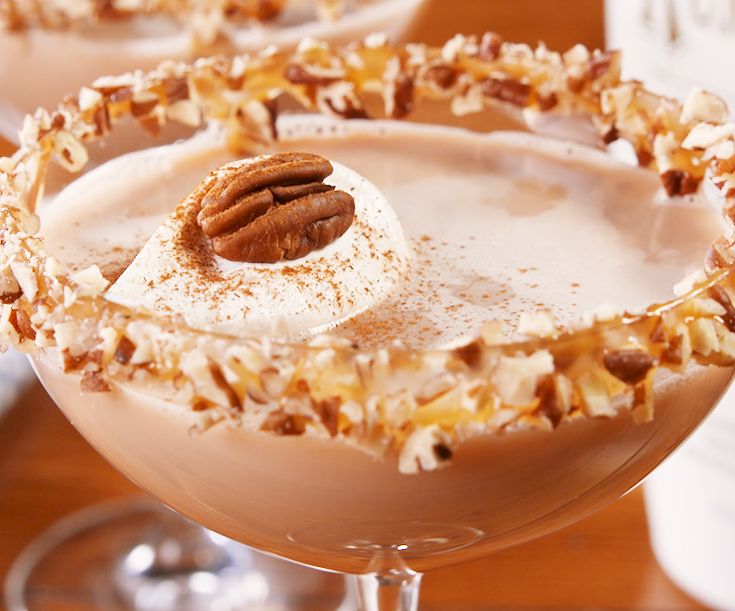 2. Pumpkin Spice Mules
INGREDIENTS:
1

 
(12-oz.) can ginger beer
Pumpkin spice, for garnish
Cinnamon sticks, for garnish
DIRECTIONS:
1. Fill 2 copper mugs with ice. Divide vodka and apple cider between mugs, then top mugs off with ginger beer.
2. Sprinkle a little pumpkin spice on top and garnish with a cinnamon stick.
PHOTO: Pinterest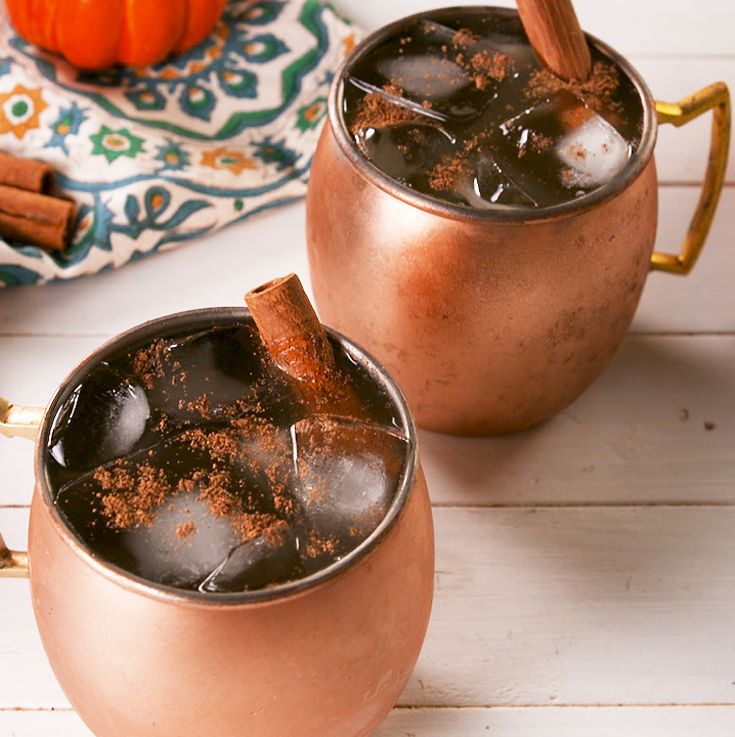 3. Thanksgiving Jungle Juice
INGREDIENTS: 
1

 O
range, sliced into rounds
1

 A
pple, cut into thin slices
DIRECTIONS:
Combine all ingredients in a punch bowl, stir together and serve.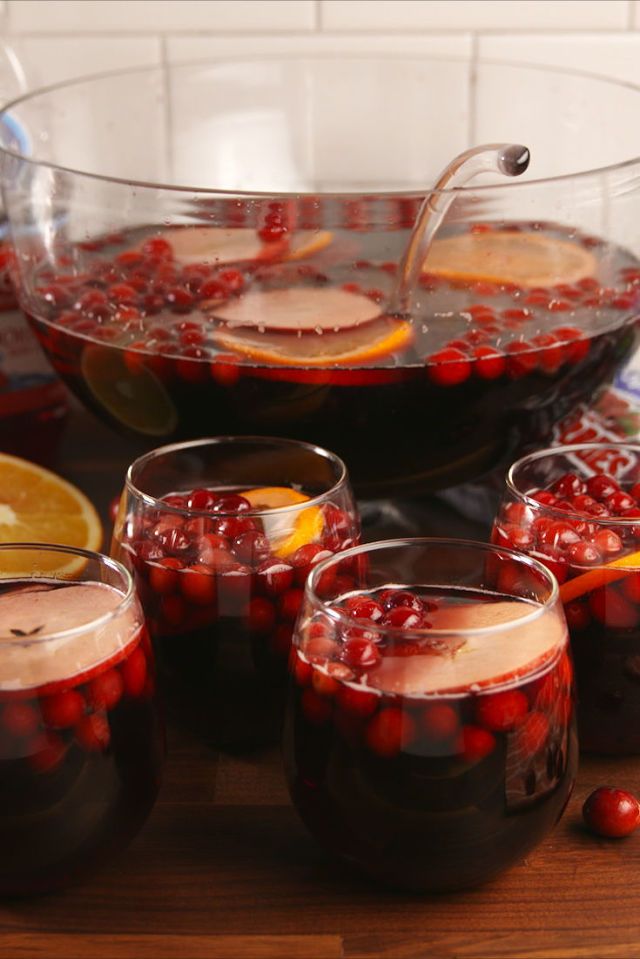 4. Cranberry Mimosas 
1 c.

 
sweetened cranberry juice
4

 
small sprigs fresh rosemary
1. Rime champagne flutes with lime and dip in sugar. Pour 1/4 cup cranberry juice into each glass and top with champagne.
2. Use a toothpick to poke a hole through cranberries. Thread rosemary skewer through cranberries and garnish mimosas.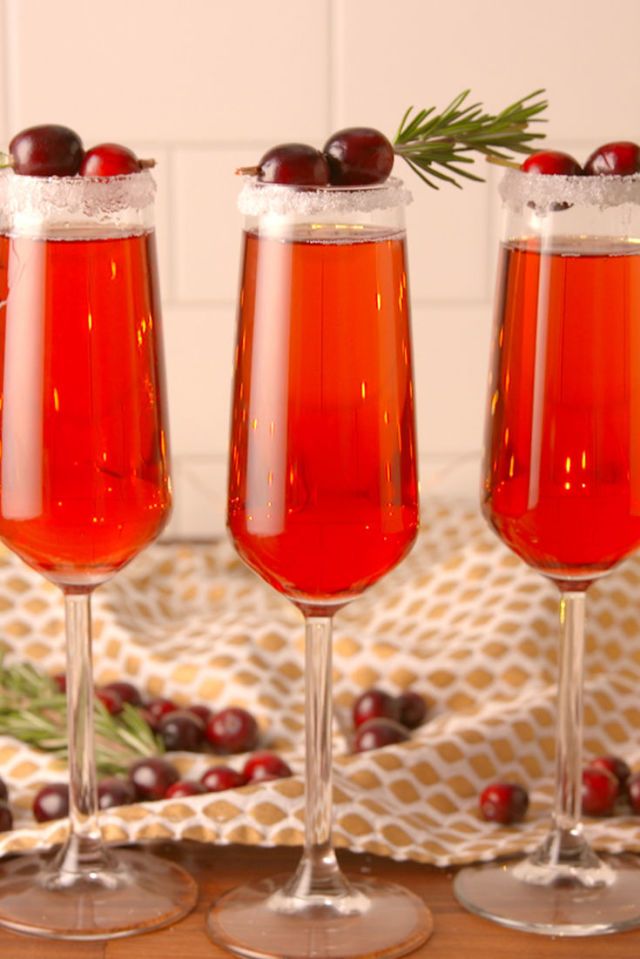 5. Pumpkin Pie Pudding Shots
2 
(3.4-oz.) boxes instant vanilla pudding mix
Whipped topping, for garnish
Cinnamon, for garnish
Cinnamon graham cracker squares, for garnish
DIRECTIONS:
1. In a large bowl, whisk together vanilla pudding, milk, Fireball, vodka, pumpkin puree, and pumpkin pie spice.
2. Spoon into shot glasses and refrigerate until set, 1 hour.
3. Top each shot with whipped topping, a sprinkle of cinnamon, and a graham cracker.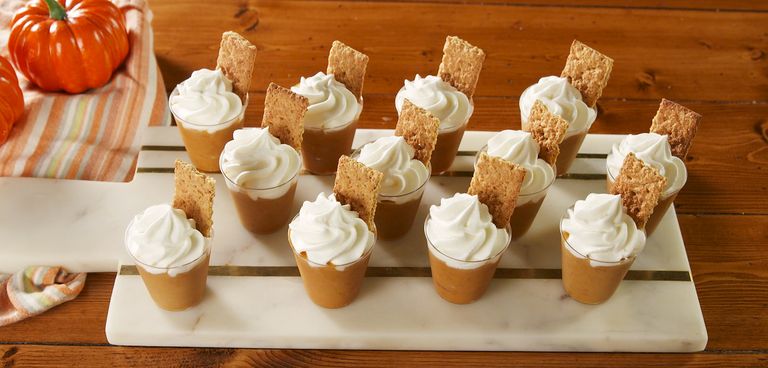 6. Pumpkin Spice Oreo Spiked Milkshake 
4

 
pumpkin spice Oreos, plus more for garnish
3

 
scoops of vanilla ice cream
Salted caramel, for drizzling
1. Place vodka, pumpkin spice Oreos, vanilla ice cream, and milk in a blender.
2. Pour mixture into serving glass and drizzle with salted caramel sauce.