Despite what you may have heard, you can enjoy delicious Mexican food in DC whenever you want, mostly thanks to Agua 301. Located next to the Yards Park in the Capitol Riverfront, Agua 301 benefits from the surrounding neighborhood which has a distinctly urban feel and has become one of DC's best areas to eat, drink, play, and shop.
Agua 301 overlooks the river and offers a variety of seafood options on their menu, so it only makes sense that they named the restaurant for the Spanish word for water. Dubbing their offering as "Modern Mexican Cuisine", Agua 301 insists it is nothing close to Tex-Mex, but instead offers Chef-inspired dishes that enhance traditional Mexican recipes with a twist. By infusing a modern flair into their menu, Agua 301 creates delightful and mouthwatering dishes that anyone can appreciate.
Agua 301 is open for lunch, dinner, and weekend brunch. For lunch, get started with their freshly made guacamole. Either go the traditional route or add crab meat and corn to give it some extra flavor. The Baja Fish Tacos, The Fried Pork Belly al Pastor, and Chicken Tinga are just a few of the tasty tacos to choose from which also come with black beans and rice. Salads, Enchiladas, Tortas/Sandwiches, and entrees are also available if you're somehow not in the mood for tacos.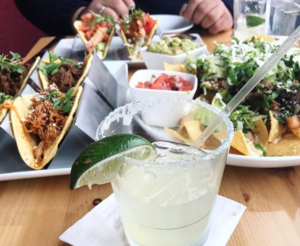 Most of the lunch menu is also featured on the dinner menu, but there are some extra options to get excited about. Agua 301 has over 50 different types of Mezcal and Tequila. A taste or two of one of these pairs perfectly with the Bocaditos, delicious bite-sized appetizers like the Beef or Chicken Flautas or Chipotle Mussels. The Cilantro Pesto Crusted Salmon and the Short Rib in Mole Barroco are two of our favorite dishes on the menu.
Happy Hour takes place daily from 3:30 to 7:00 PM and "late night" from 9:00 PM to close. Craft beers, appetizers, and margaritas are just a few items available at a discount during Happy Hour. The wide variety of beers, mixed drinks, and (of course) margaritas is enough to keep you happy throughout the evening.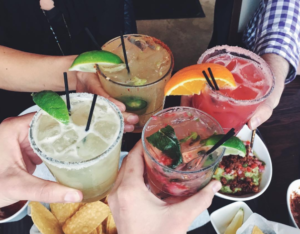 Agua 301 lives up to its name with gorgeous views of the water and outdoor seating that is perfect for mild summer, spring and fall weather. Whether you are looking for a romantic evening on the Riverfront or simply want to grab a drink after work, Agua 301 is the perfect place to enjoy yourself with a little taste of Mexico.