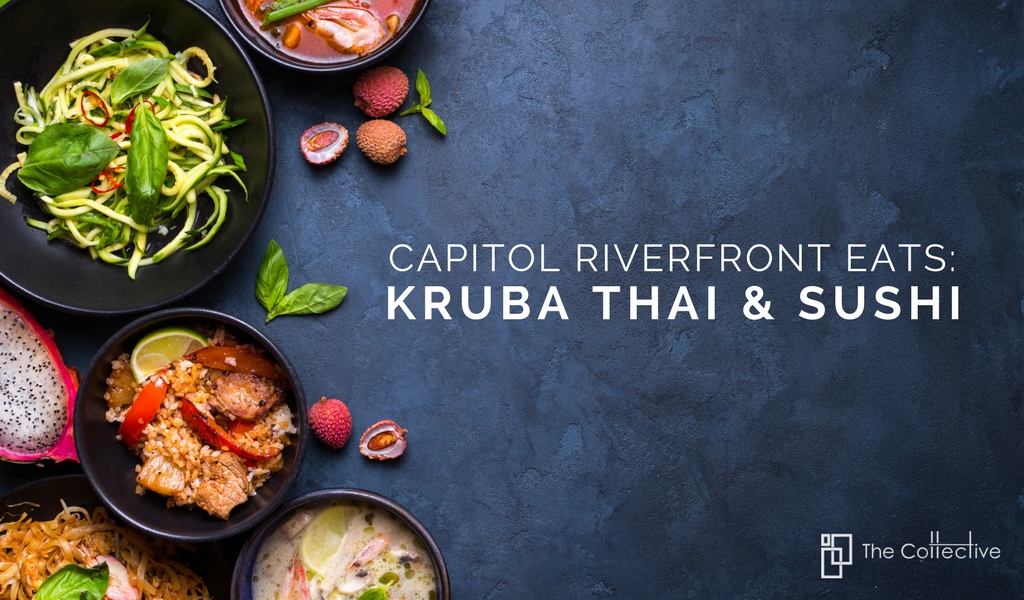 If you've recently moved to DC and are looking for the best sushi or Thai food in the city, check out Kruba Thai and Sushi located at 300 Water St in the Capitol Riverfront. Kruba Thai and Sushi is one of the longer standing Capitol Riverfront restaurants and offers the best of both cuisines under one roof! 
The Restaurant Interior
One of the first things you'll notice as you enter the restaurant is how thoughtfully decorated the interior is. The moment you walk in, the ambiance created by the décor is truly one-of-a-kind. Although, the warm fuzzy feeling you get might be a carry-over effect from the gorgeous views of the river as you entered the building. In addition to the superior architecture and dramatic wooden carvings, there is a lot of space which provides ample seating for large groups or parties.
The Extensive Menu
Kruba Thai and Sushi has a very diverse menu offering traditional Thai and Japanese appetizers, salads, and entrees. For starters, we recommend the Edamame or Chicken Satay. In the mood for a salad? The Mango Salad or the Sea War Seafood Salad with garden herbs and clear noodles topped with shrimp, squid, and scallops are great options. The Mexicano sushi roll featuring Yellowtail, Avocado, Cilantro, and Jalapeno topped with Tobiko is our roll of choice. If you've never tried the traditional Thai dish "Drunken Noodles", that's a must here. The dish consists of stir-fried wide rice noodles and sweet basil leaves in a garlic chili sauce topped with your choice of chicken, pork, beef, shrimp, or a seafood medley.Don't worry, if you are in a rush and can't dine in, Kruba Thai and Sushi offers their full menu via takeout or delivery.
Don't worry, if you are in a rush and can't dine in, Kruba Thai and Sushi offers their full menu via takeout or delivery.
The Unbeatable Lunch Special
If you work in the neighborhood (or work from home here at Park Chelsea), Kruba offers a lunch special that will leave you positively satisfied for an unbeatable price.  For just $11.95, treat yourself to a selection of 15 different generously portioned entree options served with a side of 2 (seriously yummy) spring rolls.  This special is offered Monday – Friday from 11am – 3pm, so you have plenty of time to make your way to the Riverfront for a satisfying mid-day meal.
Another great deal to take advantage of is Happy Hour.  Score exclusive deals on various appetizers, beer, wine and signature cocktails Monday-Friday from 4-7pm.
If you're heading out to the Navy Yard and are looking for a great place to snag some Thai or sushi, be sure to check out Kruba. You'll enjoy the beautiful décor, convivial atmosphere, close proximity to the Riverfront, and the tasty dishes they serve.