The Collective offers the best WFH floor-plans
This year, we all had to adjust to a new normal. For a large majority of people, this meant spending a lot more time at home. The places that typically boasted their own locations like the gym, and the movie theatre, all had to transition to the four walls of your apartment residence creatively.
As we jump into the ladder part of the year, things have begun to normalize slightly. Some of our favorite DC restaurants have since reopened. We can get inside the fitness center and even go to the movies. While having some of these activities back is excellent, there is one thing that we realize is here to stay for the foreseeable future. "Work from home." 
Let's face it, as a resident at an apartment community, you probably anticipated your apartment home is a warm, welcoming place for you to get away from work. Instead, it looks like your apartment space and workspace will continue to be the same, with the circumstances being what they are. For apartment dwellers, this might call for an adjustment. This means square footage for a desk or even another room to serve as an at-home office. An apartment home that encourages productivity and efficiency is vital.
At The Collective, we offer a wide array of floor-plans that will serve as great work-from-home spaces as well as gives you enough separation to be able to enjoy your life outside of work.
Check out our four favorite work-from-home floor-plans at The Collective.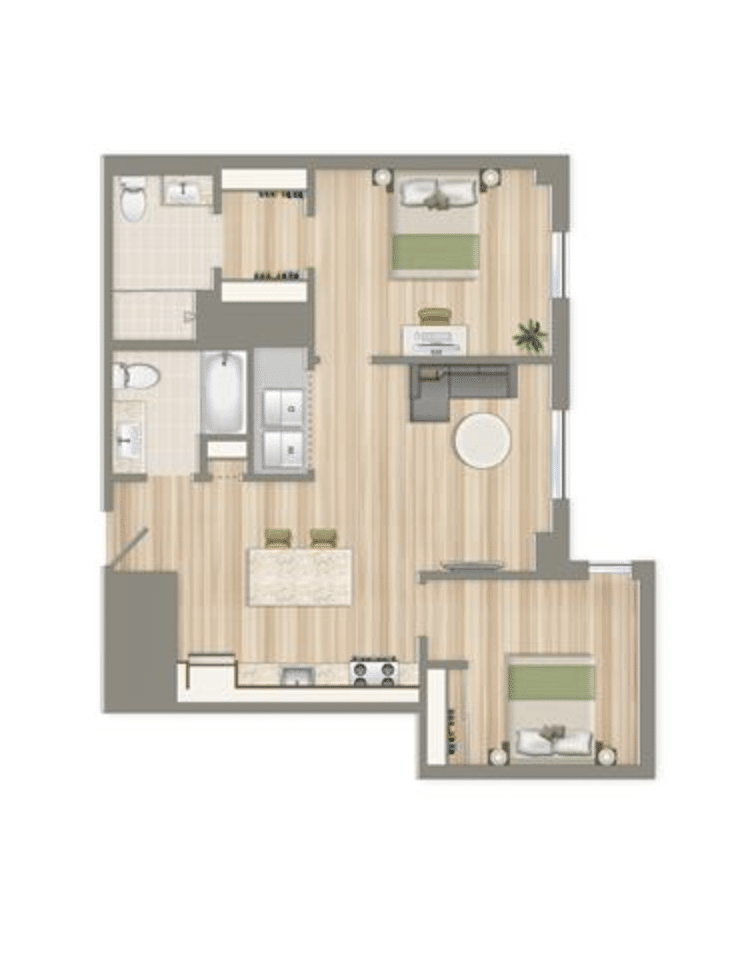 Park Chelsea 2A
This two-bedroom apartment at Park Chelsea is just what you need for a work-from-home apartment floor-plan. At 989 square feet, you will have enough space to separate living from working!
The bedrooms are comfortably placed on opposite ends of the apartment, making it easy for you to set up your at-home office without the worry of clutter. 
Agora 1K
This one-bedroom apartment at Agora is one of the largest we have to offer. The living area is open which allows you to fit a sizeable at-home desk.
This floor-plan is also equipped with ample closet space, good for any extra office supplies you might need to have access to.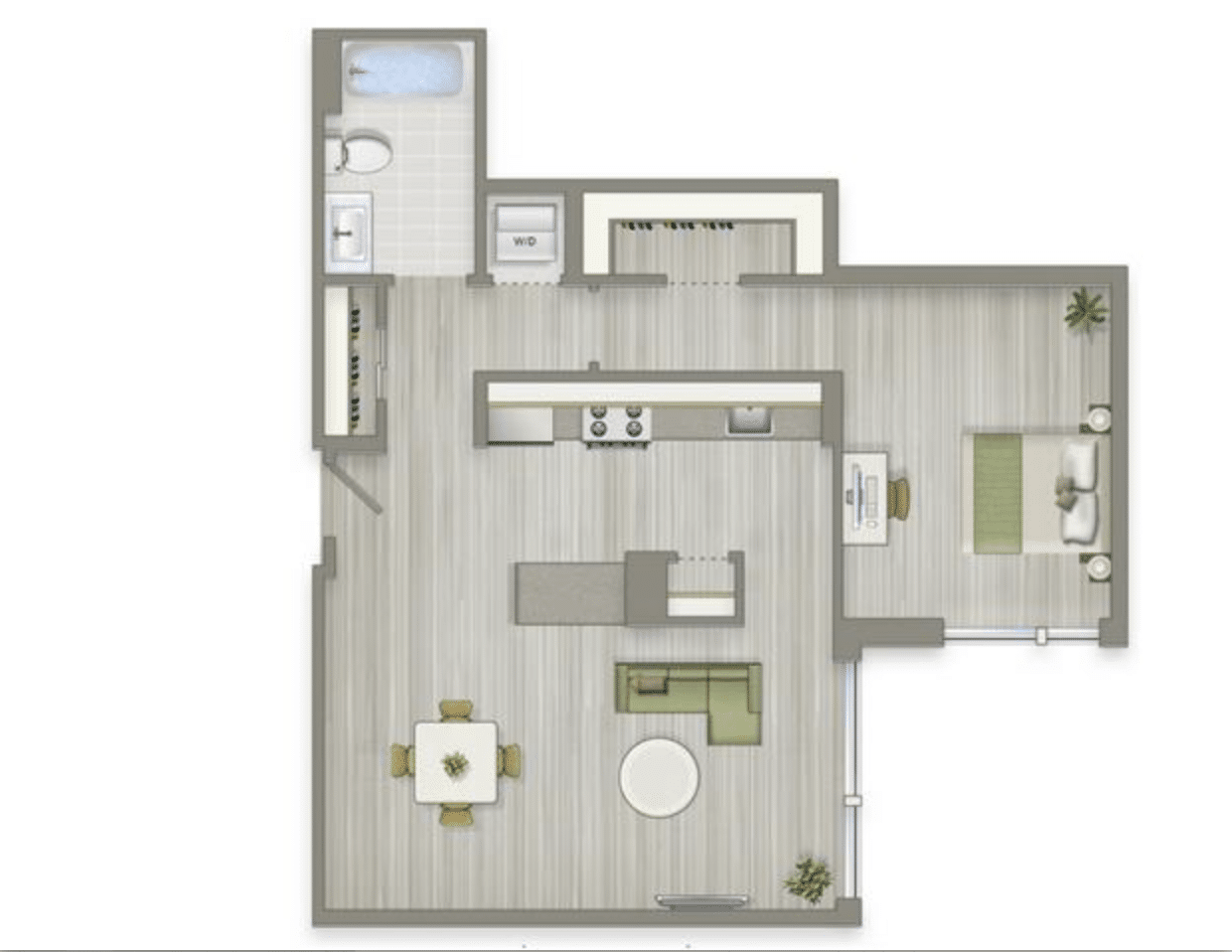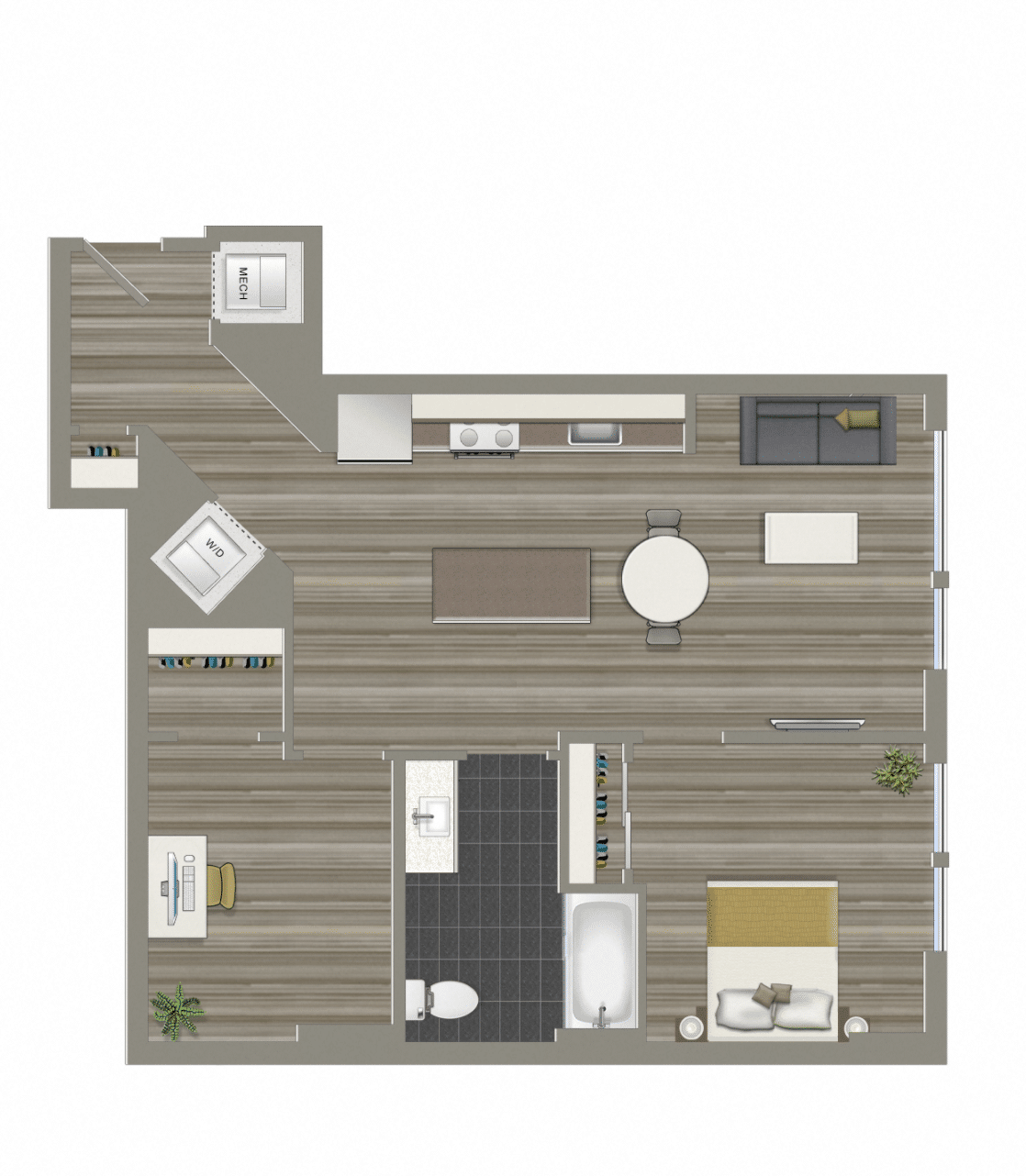 Garrett 2-Aa
This two-bedroom at The Garrett is a remote workers' dream! At 766 square feet, and two full-size bedrooms the work from home possibilities are endless. The second bedroom is a perfect at-home work station.
With a closet and plenty of space for you to capture a nice work aesthetic, your work productivity will surely increase. 
The Garrett 2B
Floor-plan 2B at The Garrett is truly incredible! This layout will give you an incredible chance to enjoy to have an invigorating workplace while also being able to enjoy some of the other amazing features of your apartment.
The master bedroom is connected to a beautiful full-size balcony that welcomes warm natural lighting. 
The space of this apartment will give you the peace-of-mind you need to truly enjoy your living experience at The Garrett.
Working from home the 6 months was an unforeseen adjustment. But with a lot of companies semi-permanently adopting remote working policies moving forward. The time to expand your apartment work environment is now.
Looking for another work from home option?
Make your workday more inspiring at Collective Work. Whether you are just starting out, have a small team, or are growing your business, we know that working from home (or the local coffee shop) presents a host of challenges and distractions. Get inspired in our thoughtfully designed co-working office space built to bring out the best in you and your team.