Phase III of The Collective is quickly approaching, and the anticipation surrounding this brand new addition to our family is greatly warranted! The Garrett is designed with some of the most breathtaking apartment features and community amenities you have ever seen! Just when you thought your Collective life couldn't get any better, we turned things up to another level.
Here's a first look at what you can expect from life at The Garrett at The Collective.   
INSIDE OF YOUR APARTMENT
Your apartment at The Garrett could easily be mistaken for a modern art museum with all of the custom finishes each unit is designed with! Some highlights include sleek quartz countertops, custom "cracked" style backsplashes, chrome fixtures, exclusive Mecho shades in each room, and customizable Elfa shelving in every closet. 
Some floorplans at The Garrett also include a charming double vanity design in the bathroom, side by side laundry stations, wine fridges, and a full outdoor terrace! 
FULL LIST OF GARRETT APARTMENT FEATURES:
Full-Size Washer and Dryers
Side-by-side laundry stations*
Double vanity set-ups *
Quartz countertops
Crackled tile backsplash
9' floor-to-ceiling windows*
Open kitchen shelving
Elfa closets
GE Energy Star Appliances
Chrome fixtures
Wine fridges*
Mecho shades
Kitchen Islands*
Soft close drawers and cabinets
Balcony and terraces are available*
*Available in some apartments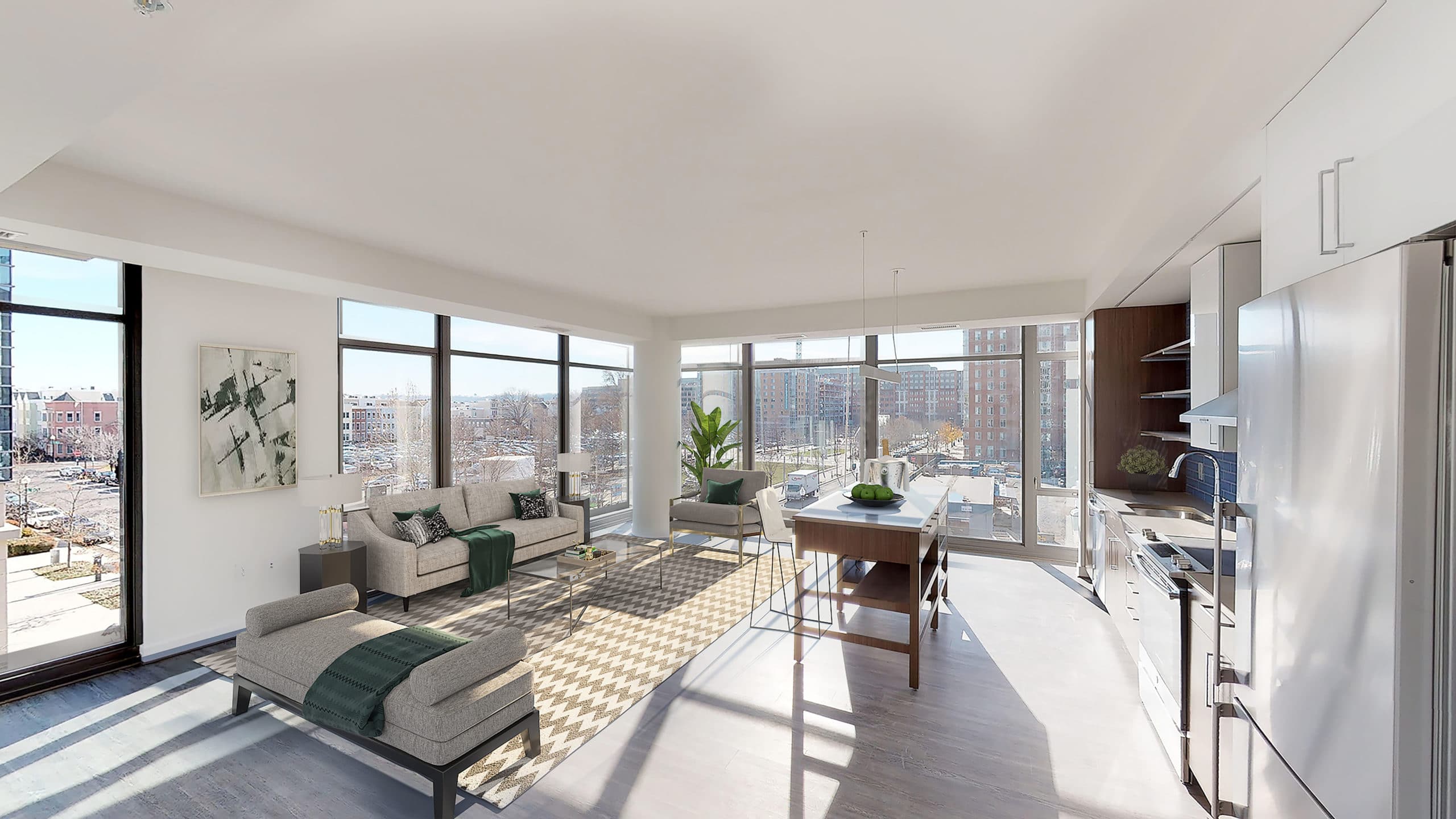 The Garrett Amenities
The Garrett amenities are unlike anything you've ever seen at an apartment community. We essentially took all of the features of a sports complex, and placed them where you live! 
There is an activity for everyone to enjoy. If you love shooting some hoops, get your game on the inside of our full-size basketball court (includes 6 total hoops). Are you into intense full-body workouts? Our outdoor jungle gym is the perfect location to hit all of those muscles at one time. Our tennis lovers' will undoubtedly enjoy being able to play a few rounds on our outdoor tennis court; if you're more of a racquetball type of person, we've got that covered too! Residents will also be able to enjoy some high-intensity games on our indoor racquetball court. 
The list goes on and on! Take a look at The Garrett's full list of fitness and activity amenities:
Rooftop Fitness center with Woodway treadmills
Treadmill climbing wall
Rooftop Outdoor jungle gym
Rooftop fitness center w/outdoor fitness
Outdoor Singles Tennis Court
Full-size Basketball court
Indoor Racquetball court
The Garrett features some of the classic, crowd favorite amenities too! We didn't forget about including 5 additional rooftop outdoor grills, 2 more rooftop outdoor firepits, an interactive game room, or a massive rooftop for you to be able to enjoy memorizing DC views.
But with a brand new building, comes new luxury amenity futures for our residents to enjoy. With The Garrett, we're newly introducing 2 rooftop spas, a sunroom, an indoor terrarium, a 2,000 square foot rooftop club room, a car washing station, and even a 5,000 square foot co-working space for our residents who need a productive area to telework. 
Like we said, every community feature you could imagine is now within your reach at The Garrett. 
FULL LIST OF GARRETT SOCIAL AMENITIES:
2,000 SF Rooftop Club Room 
The rooftop lounge, game room, and sunroom with SE views.
5 Rooftop outdoor grills
2 Rooftop outdoor firepits
2 Rooftop outdoor spas
Indoor Terrarium
Carwash Station (2 cars)
5,000 square feet of co-working space
Experiences speak louder than words, and that's why we can't wait for you to touch and feel these new additions at The Garrett. Whether it's finding a new love for the four walls of your apartment space, or spending hours and hours enjoying the amenity areas, we know that The Garrett is designed to better help you have an extraordinary living experience!