Breakfast is the most important meal of the day. Whether you're looking for a grab and go option or looking to sit awhile and check your morning emails, Capitol Riverfront's ever-expanding array of options has got you covered! Here are our top 5 picks for breakfast, all just a short walk from your front door as a resident of The Collective:
Slipstream was opened in 2017 by married co-founders Miranda Mirabella and Ryan Fleming, this convenient option is just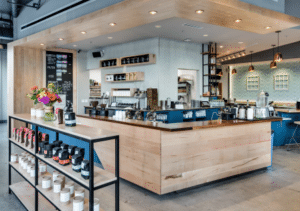 steps from your front door on the corner of New Jersey Ave SE and Eye Street SE. Slipstream is the coffee connoisseurs' dream offering a large variety of coffees brewed as either filter or espresso as well as a variety of other coffee-based drinks. Whether you're looking to take your Bodega-Style Egg Sandwich or Avocado Toast (which is truly a work of art) to go or camp out with your laptop and a Granola Bowl, Slipstream offers the best of both worlds.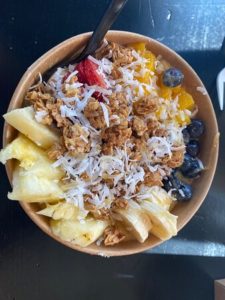 La Famosa is the ideal departure from your standard bacon and eggs. Chef and Owner Joancarlo Parkhurst brought his vision for soulful Puerto Rican cooking to the Capitol Riverfront in 2020. Parkhurst, a native of Puerto Rico, aims to offer a concept of simple and authentic Puerto Rican cuisine. Stop by between 8AM-11AM and try a Bocadillo (grilled ham and swiss breakfast sandwich) or delicious Montadito (house made biscuit, morcilla, egg, cheddar croquette, and house made guava sauce). Be sure to also try a cortado, coquitatte, or any of their authentic coffee drinks.
Gregory's Coffee is native to the New York Metropolitan area. This family run business has made their foray into the DC area over the past five years, most recently directly next to the Navy Yard Metro on New Jersey Ave SE. Gregory's has over 40 different coffee and tea-based drink options that will be sure to keep you coming back for more. They offer a fantastic array of food options from pastries to breakfast sandwiches that are ideal for the commuter on the go. And for those who prefer plant-based diets—you have a great variety of options (we recommend the Vegan Burrito!).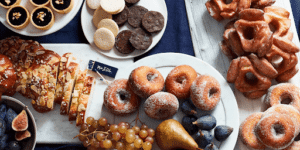 Mah-ze-dahr describes the taste essence of food in the Urdu language, or the flavor and magic that make it delicious. When it comes to flavor, this NYC based bakery does not disappoint. Located just across the street from the Center Field Gate at National's Park, you should make it a priority to try one of their award-winning pastries. From their mouth-watering brioche doughnuts, their scones and croissants, and their Devil in Ganache cake (a favorite of Oprah's!), this sleek and beautiful bakery has a breakfast option for everyone
Bethesda Bagel is a DC classic that has been serving up (actually authentic) New York Style Bagels since the early 1980's. As the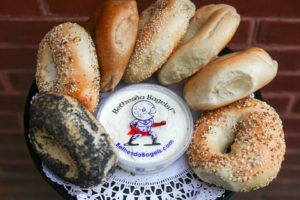 name suggests, the flagship location is located on Bethesda Row, but they have expanded into six different locations in the DMV area. Lucky for us, one of those locations happen to be just outside the Navy Yard Metro Station. Whether you prefer a classic bagel with schmear (with ten types of cream cheese!), a bagel with lox, or a bagel breakfast sandwich with the endless varieties of handmade bagels—you will want for nothing. Be sure to order ahead on the weekends as this extremely popular option is often packed.
In the wise words of Ron Swanson: "There has never been a sadness that can't be cured by breakfast food.". Suffice it to say: there is no shortage of breakfast spots in our neighborhood. As a resident of The Collective, you have these choices and so many more just steps from your front door!