As a resident of The Collective, you have the unique opportunity to live in one of DC's most vibrant and exciting neighborhoods: Capitol Riverfront. This waterfront community is home to some of the city's best dining, shopping, and entertainment options, as well as numerous parks and green spaces. Whether you're a longtime resident or new to the area, there's always something new to discover in Capitol Riverfront. In this post, we'll take you on a tour of some of our favorite things to see and do in the neighborhood.
Dining
Capitol Riverfront is home to a diverse array of dining options, from casual cafes to upscale restaurants. For a quick bite, check out La Famosa for some authentic Puerto Rican bites or Toastique for one of their unique toast creations. If you're in the mood for something heartier, head to Pink Taco for Taco Tuesday or Duke's Grocery for one of their famous burgers. And for a unique dining experience, try Royal Sands Social Club for delicious cocktails and fresh seafood with a beachy Florida flair.
Shopping
From fashion to home décor, Capitol Riverfront has plenty of shopping options to satisfy your retail cravings. The Yards is a popular destination for local shopping, with a mix of chain and boutique stores like Lululemon, Steadfast Supply, and Willow. If you're looking for something more unique, check out Eastern Market, a historic indoor market just a metro stop or short walk away that's been operating since 1873. Here you'll find a wide range of local vendors selling everything from fresh produce to handmade crafts.
Entertainment
Capitol Riverfront is home to some of DC's best entertainment venues, including Nationals Park and Audi Field. Catch a baseball game or concert at Nationals Park, home of the Washington Nationals, or see the DC United soccer team play at Audi Field. The neighborhood also hosts events ranging from movie nights in Canal Park to free concerts in Yards Park all year long!
Parks and Green Spaces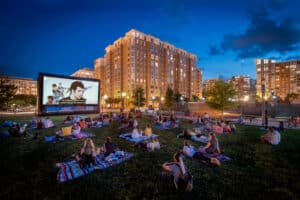 One of the best things about living in Capitol Riverfront is the abundance of parks and green spaces. The neighborhood is home to several waterfront parks, including Yards Park, which offer stunning views of the Anacostia and Potomac Rivers and have plenty of space for picnics, jogging, and outdoor activities. You can also visit the Anacostia Riverwalk Trail, a scenic path that runs along the river and connects to other neighborhoods throughout the city. To read more about some of the green features at The Collective, click here!
---
As you can see, there's no shortage of things to see and do in Capitol Riverfront. Whether you're in the mood for dining, shopping, entertainment, or outdoor adventures, this neighborhood has something for everyone. And as a resident of The Collective, you have the added benefit of living right in the heart of it all. So why not take advantage of everything this amazing neighborhood has to offer?